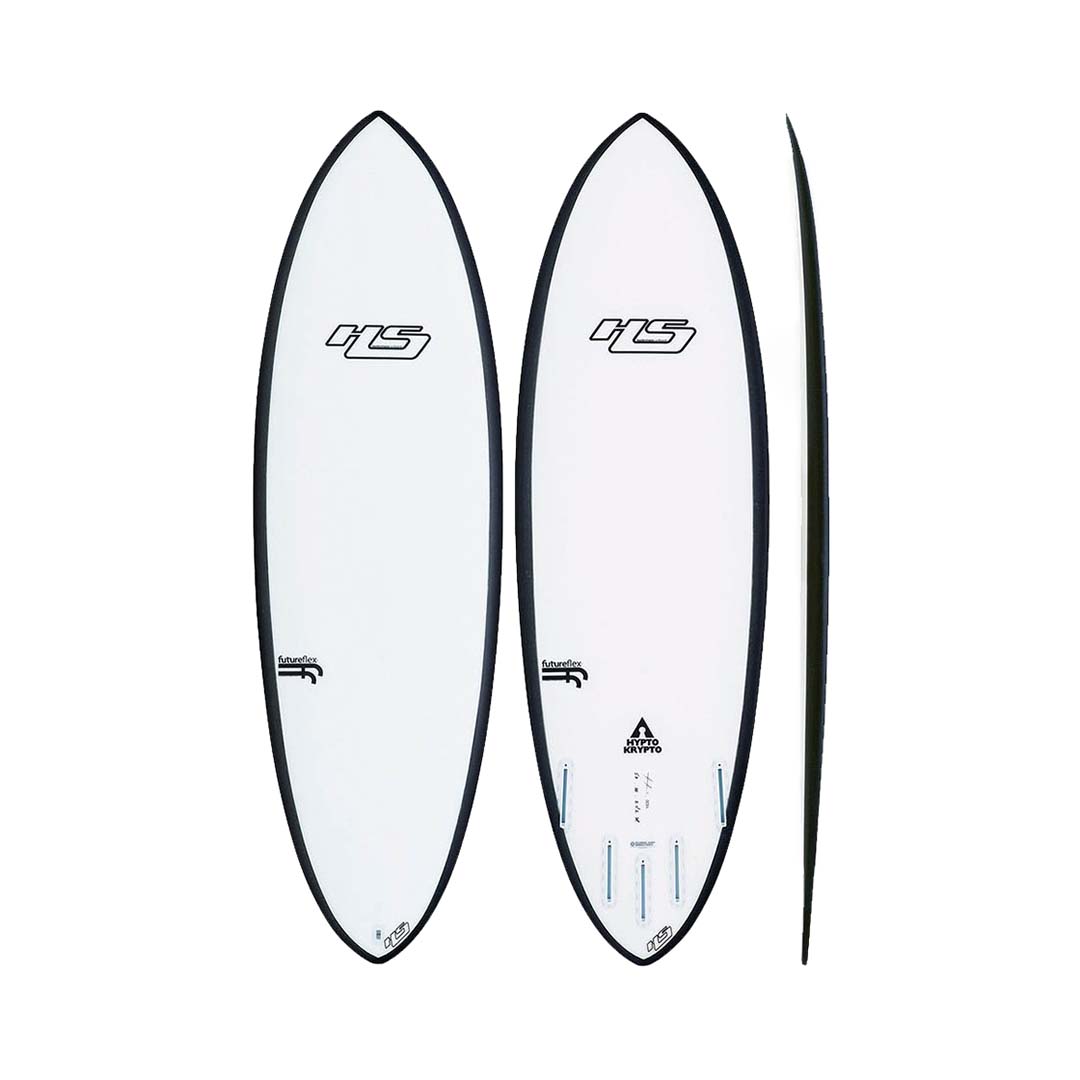 Hayden Shapes Hypto Krypto
Having won 2 awards as Surfboard of the Year back in 2014 and 2015, the Hypto Krypto is still to this day extremely high in demand. The combination of the outline, foil and rocker has made this board to be a magic board for a lot of surfers.
An all-round board that can be surfed in 1-8ft waves, makes this board your perfect one board quiver for travelling. In addition, the epoxy resin helps the board to endure more beatings than your normal PU boards and the nature of the buoyancy provided by the epoxy helps surfers to paddle faster.
If you are looking for an easy board to ride that covers a wide variety of waves, whether you are an intermediate or advance surfer, then this board is for you.
Take this board to Canngu, the Bukit, Keramas, the Mentawais......the options are endless.
Recommended around 2 inches smaller than your regular shortboard.
 Attributes
Construction: Epoxy
Outline: 

A full outline with plenty of volume in the chest for easy paddling. 

Tail: Rounded Pin Tail
Fin Set-Up:

Thruster, Quad, Five Fin

Fin System:

FCS, Futures

Suitable Conditions: 2–8ft
Rider Ability: Intermediate to Advanced
Dimensions 
5'4" x 19.50" x 2.25" | 26.2L
5'6″ x 19.75″ x 2.375″ | 28.31L
5'8" x 20" x 2.50" | 31L
5'10″ x 20.25″ x 2.625″ | 33.79L
6'0″ x 20.50″ x 2.75″ | 36.56L
6'2″ x 20.75″ x 2.75″ | 38.39L
6'4″ x 21″ x 3″ | 43.23L
6'6″ x 21.50 x 3″ | 45.53L
6'8″ x 22" x 3.25″ | 51.47L
6'10″ x 22.50″ x 3.25″ | 53.96L

Customs

For custom orders on surfboards please contact us here.
Hayden Shapes Hypto Krypto
Payment
Payment Options
We currently only offer payment upon collection in store. We do not currently take online payments.
If you are ordering a surfboard, we can help you arrange delivery within Bali and take a bank transfer payment before delivery.
Collection
Pick up in Store
Once you have contacted us to enquire about stock, please come and pick up your items in store.
Delivery within Bali
We can arrannge a GoCar to deliver your purchases. Please note you will be charged for the cost of the GoCar.
Get in touch
To discuss further about the best way for you to place an order, please get in contact via the contact page.
About us
Boardriders Echo Beach is your complete one-stop surf shop in Bali, situated at Echo Beach right infront of a handful of world class waves such as Sandbar and Rivermouth Right. Boardriders caters an array of beachwear, surfboards and accessories that focus on quality. We stock many of the large surf brands such as Quiksilver, Roxy, Billabong and many more.